Chateau and gardens will open since May 1rst. New activities, new visit. See you soon with plaesure.
Come and share in the elegance and sophistication of life in an 18th century chateau and visit rooms that are fully furnished and reflect life in the 1750s.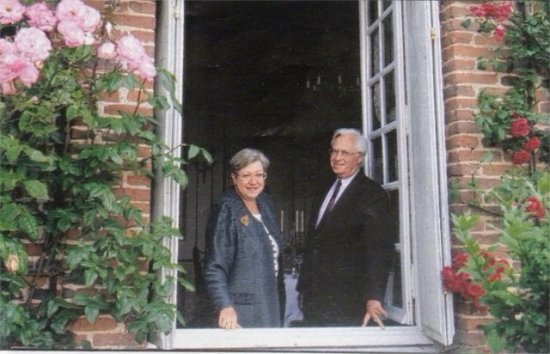 Princess & Prince KAYALI
The park has been reinstated to its original formal plan, a rose garden has been developed and a kitchen garden has been recently created.
Princess Anne Marie KAYALI
Château de Mesnil Geoffroy – 2, chemin de la Dame Blanche
76740 ERMENOUVILLE – NORMANDIE  FRANCE
Tél : 33 (0)6 71 07 22 50 – chateaumesnil.geoffroy@wanadoo.fr
The chateau is situated 8 minutes from the Normandy coast (close to St Valery en Caux and Veules les Roses) and by car is only 45 minutes from Rouen, 2 hours from Paris and just over 2 hours from the channel port of Calais.
It is rare to be able to visit a chateau (classified as a « monument historique ») where the current owners live.  The chateau is fully furnished with period furniture decoration and fabrics which reflect 18th century design.!
The chateau is surrounded by a 10 hectare park in the formal French manner designed by Colinot – one of the nephews of the garden designer Andre le Notre whose greatest gardens were designed for Louis XIV's residences.  The chateau is also well known for its rose garden which has over 2900 plants representing 2000 different varieties of rose.  All the plants are labelled.  The rose garden had in 2016 the award of the best garden of collection in Normandy !
Since 2015:  A newly laid out kitchen garden containing old varieties of vegetables planted alongside flowers.  All are helpfully labelled. Award of the best kitchen garden in France by the « Potager du Roi » in Versailles.